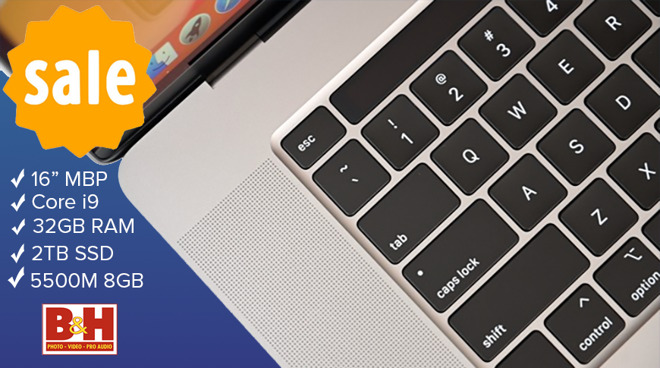 $3499 $3899.00
You save $400.00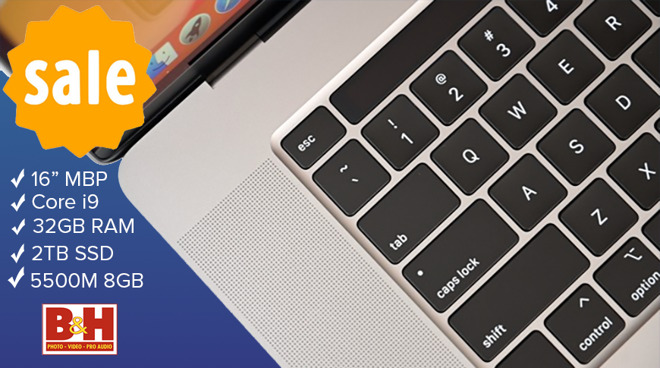 DEAL EXPIRED: B&H Photo this week has partnered with AppleInsider to offer readers a first-rate deal on Apple's 16" MacBook Pro that's packed with upgrades. Priced at $3,499 when activated through our special pricing link from a desktop, laptop or iPad, this model also qualifies for free expedited shipping within the contiguous U.S.
Looking to save even more? Check out the Payboo Card, which instantly refunds the amount you pay in sales tax on orders shipped to qualifying zip codes. Best for those willing to pay the balance off in full right away, the Payboo perk can easily put another $280 back in your wallet on top of the $400 discount.
Those who want to spread the payments out over time can do so with the B&H Financing Card, which offers no interest financing when paid in full within 12 months.
Exclusive 16-inch MacBook Pro discount
16" MacBook Pro 8C (2.4GHz, 32GB, 2TB, 5500M 8GB) Gray: $3,499* ($400 off) [Details]
*Special activation instructions
To activate the discounted price, you must shop through the special pricing link above or in our 16-inch MacBook Pro Price Guide. We apologize, but the offer cannot be redeemed in mobile apps at this time. Need help? Send us a note at [email protected] and we will do our best to assist.
Additional 16" MacBook Pro deals
16-inch MacBook Pro 6C (2.6GHz, 16GB, 512GB, 5300M): $2,099 ($300 off) - New price drop!
16-inch MacBook Pro 8C (2.3GHz, 16GB, 1TB, 5500M 4GB): $2,499 ($300 off)
Find savings on every config in our 16-inch MacBook Pro Price Guide...