Apple's upgraded 13" MacBook Pro with function keys (16GB RAM, 256GB SSD) on sale for $1,399 with no tax in most states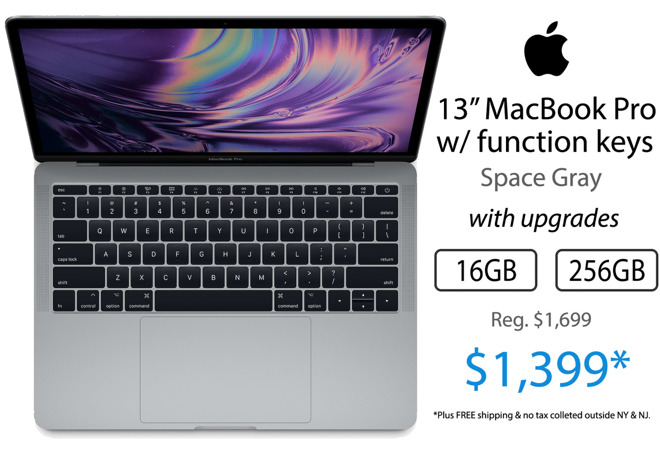 DEAL EXPIRED: In what is the absolute lowest price we've ever seen, B&H Photo is knocking $300 off Apple's upgraded 13-inch MacBook Pro with 16GB of memory and a 256GB SSD. Now $1,399.00 for the popular configuration using the step-by-step instructions below, this deal rings in $200 cheaper than other Apple authorized resellers, according to our 13-inch MacBook Pro Price Guide. It's also $500 cheaper than a 2018 model with the same amount of memory and storage.
In addition to the exclusive discount, which is available only at AppleInsider, B&H will not collect sales tax on orders shipped outside New York and New Jersey*. Expedited shipping is also free within the contiguous U.S., which makes this deal over $425 cheaper for many shoppers outside NY and NJ compared to buying from Apple. And since B&H Photo is an Apple authorized reseller, you can rest assured these systems are factory sealed and exactly the same as you would receive from the Apple Store.
To activate the savings, please follow the step-by-step instructions below.
Instructions: To redeem the discounts, simply click through this exclusive pricing link using AppleInsider's desktop site and look for the advertised offer.
Please note: These deals cannot be activated through the B&H and AppleInsider apps at this time. If you still cannot see the exclusive price using the desktop site, all is not lost! Need help? Send us a note at [email protected] and we will do our best to assist.
You can easily tack on an AppleCare extended protection plan to this 13-inch MacBook Pro for $269 by selecting the AppleCare option immediately after you press the "Add to Cart" button on B&H's website.