Apple's 2016 12" MacBook with 512GB SSD for $969 with free shipping & no tax in 48 states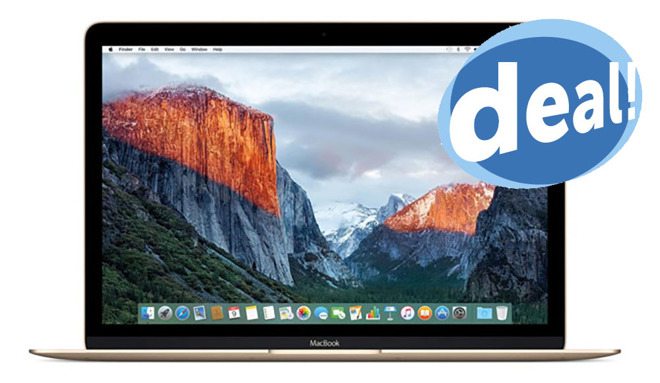 SOLD OUT: Adorama this week has the lowest price from an Apple authorized reseller on Apple's 2016 12-inch MacBook in Gold with 512GB of storage space. Now $969.00, this represents a discount of $630 off MSRP. The deal also includes free shipping to the contiguous U.S., providing shoppers with the lowest price available on a 512GB model by $200 or more, according to our 2016 12-inch MacBook Price Guide. By comparison, it would also cost $460 more to upgrade to a 2017 model with the same amount of storage space. Adorama also will not collect sales tax on orders shipped outside NY and NJ, saving many shoppers another $80 on average, and there's no interest when paid in full within six months using the Adorama Credit Card.
2016 12" MacBook in Gold (1.2GHz 8GB 512GB) MLHF2LL/A
($630 off + no tax outside NY & NJ & 0% financing*)
*Adorama will not collect sales tax on orders shipped outside NY & NJ. No interest if paid in full within 6 months using the Adorama Credit Card.
You can easily tack on an AppleCare+ extended protection plan to this 12-inch MacBook for $249 by selecting the AppleCare option immediately after you press the "Add to Cart" button on Adorama's website.
(*) Step by Step Instructions for Special Financing with the Adorama Credit Card
1) Make sure you're using a browser with cookies enabled that isn't in private mode.
2) Click on the price link to the desired configuration from this article or the Adorama price links in our Price Guides.
3) On the product page, look for the "Ways to Save" section underneath the price and "More Product" Options.
4) Look for a link that says "view details" next to "6 or 12 Month financing available**". Click that to bring up a popup to apply.
5) Click the blue Apply Now button.
6) Proceed with the application process, reviewing the terms and conditions along the way.
7) That's it. If you live outside NY & NJ Adorama will also not collect sales tax on your order.
As always, if you have any issues, you can reach out to us at [email protected] and we'll try and help.