LG 27" 5K Thunderbolt 3 Display for $1,199 w/ 3-year warranty and no tax in 48 states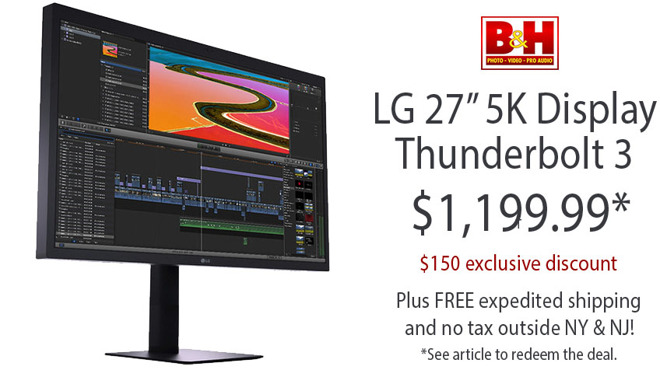 DEAL EXPIRED: B&H Photo this week is partnering with AppleInsider to offer readers exclusive savings on LG's 27-inch 5K IPS Monitor (model 27MD5KB-B). This UltraFine display is $150 off for AI readers, bringing the price down to $1,199.99. With one Thunderbolt 3 upstream port and three USB Type-C downstream ports, this is a great option for 2016 and 2017 MacBook Pro users. Expedited shipping is also free to contiguous U.S. addresses and there's no sales tax on orders shipped outside NY and NJ. Warranty coverage spans three years as well, providing shoppers with peace of mind over the one year warranty found at the Apple Store.
To activate the discount, please follow the instructions below.
LG 27MD5KB-B UltraFine 27" 16:9 5K IPS Monitor for $1,199.99
($100 off + no tax outside NY & NJ)
Instructions: To redeem the discount, simply click through one of the $1,199.99 pricing links in this post using AppleInsider's desktop site.
Please note: This deal cannot be activated through the B&H and AppleInsider apps at this time. If you still cannot see the exclusive price using the desktop site, all is not lost! Need help? Send us a note at [email protected] and we will do our best to assist.