Apple's 15" MacBook Pro with Touch Bar (2.7GHz, 16GB, 512GB, 455) with AppleCare for $2,799 with no tax in 48 states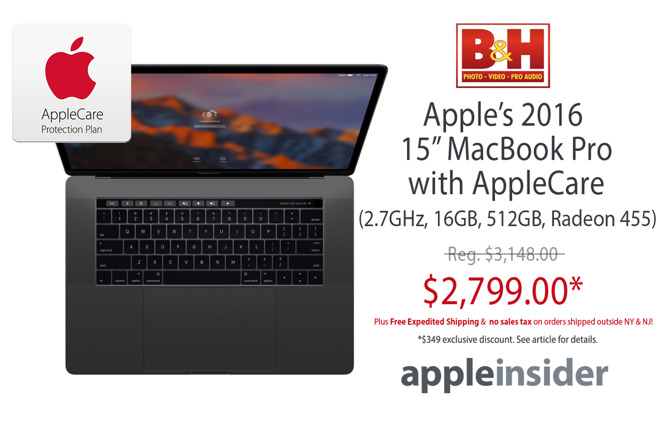 DEAL EXPIRED: For one week only (or while supplies last), AppleInsider readers can save $350 on Apple's high-end Late 2016 15-inch MacBook Pro in Space Gray with three years of AppleCare. This special bundle, which is $2,799.00 exclusively for AI readers at Apple authorized reseller B&H Photo, features the TouchBar laptop in Space Gray (model MLH42LL/A) with an upgraded 2.7GHz processor, 512GB of storage space and Radeon 455 graphics for enhanced performance. It also comes with an AppleCare protection plan for added peace of mind.
Plus, on top of the instant savings, B&H Photo will not collect sales tax on orders shipped outside NY and NJ. For many shoppers outside these two states, this deal is $600 cheaper on average compared to paying full price with tax at the Apple Store (check your local laws for filing requirements). B&H Photo is also tacking on free expedited shipping to each of these AppleCare bundles for fast delivery to your doorstep. According to our 15-inch MacBook Pro with AppleCare Price Guide, this offer is $34 to $344 cheaper than buying from another authorized reseller. See instructions below for redeeming the discount.
15" (2.7GHz, 16GB, 512GB, Radeon 455) + AC for $2,799.00 ($350 off + no tax outside NY & NJ)
B&H will not collect sales tax on orders shipped outside NY and NJ. Offer is link activated through the AppleInsider desktop and mobile sites. It cannot be activated through the AI and B&H apps at this time.
Please note: If you do not see the advertised price after clicking on the pricing links above, try loading this article in a private browsing window on your Mac or iPhone and try the links again (at this time, the offer cannot be activated through the AppleInsider and B&H apps). If you still do not see the correct price and you think all hope is lost, it isn't; just drop us a line at [email protected] and we'll do our best to help you out.