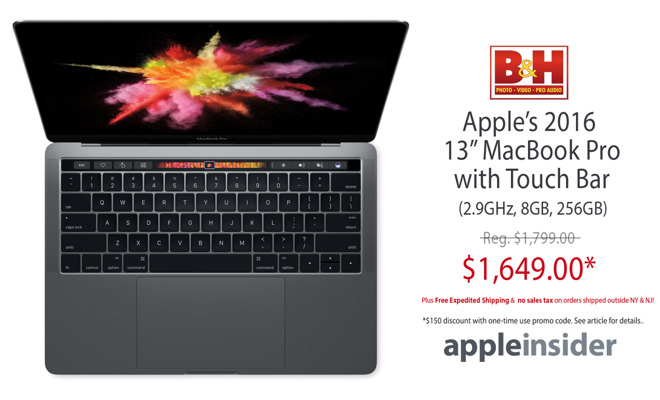 $1649 $1799.00
You save $150.00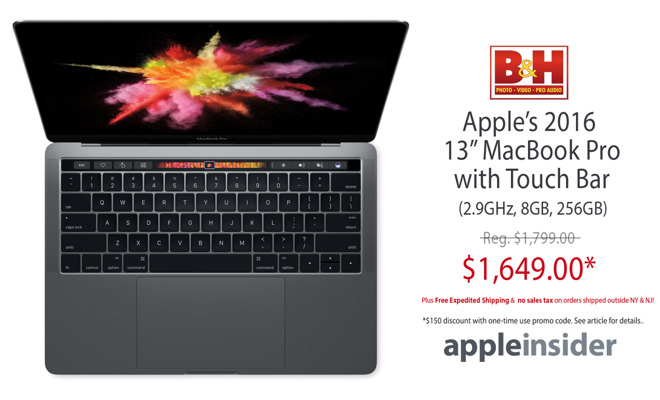 DEAL EXPIRED: Now through Feb. 21, B&H is taking $150 off Apple's Late 2016 13" MacBook Pro (2.9GHz, 8GB, 256GB, MLH12LL/A) in Space Gray, bringing the price down to $1,649.00 thanks to instant savings and a limited batch of one-time use promo codes. In addition to the $100 instant discount and $50 coupon, B&H is throwing in free expedited shipping as well. What's more, B&H also will not collect sales tax on orders shipped outside NY and NJ, saving shoppers outside those two states another $294 on average compared to paying full price with tax at the Apple Store (you may be responsible for state and local taxes when filing your tax returns. Please check your local sales tax laws.).
According to our 13-inch MacBook Pro with Touch Bar Price Guide, this deal offers shoppers the lowest price available with the fastest delivery time from an Apple authorized reseller.
13" Touch Bar (2.9GHz, 8GB, 256GB) in Space Gray for $1,649.00 ($150 off + no tax outside NY & NJ)
Price with one-time use code (see instructions below). B&H will not collect sales tax on orders shipped outside NY & NJ.
How to request a single-use coupon code on the configuration above
To secure the bonus savings on top of B&H's already reduced pricing, please mention this model when emailing us at [email protected] and we'll send over a time-sensitive, one-time-use coupon code to activate the deal. Please note, this offer is valid on model MLH12LL/A shipped to a U.S. address.
Save $20 when you add AppleCare
You can easily tack on an AppleCare extended protection plan to this 13-inch MacBook Pro with TouchBar from B&H at a discounted rate of $229 by selecting the AppleCare option immediately after you press the "Add to Cart" button on B&H's website. Or just use this link.