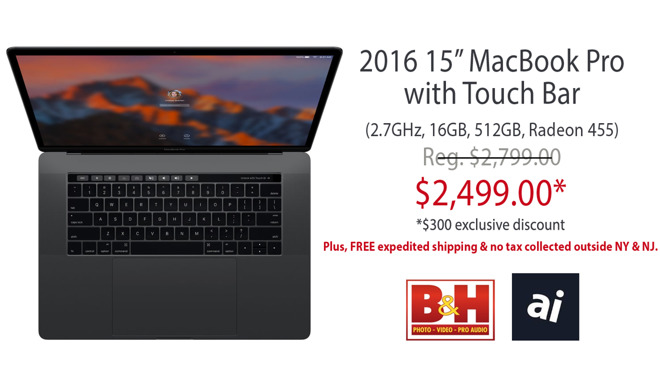 $2499 $2799.00
You save $300.00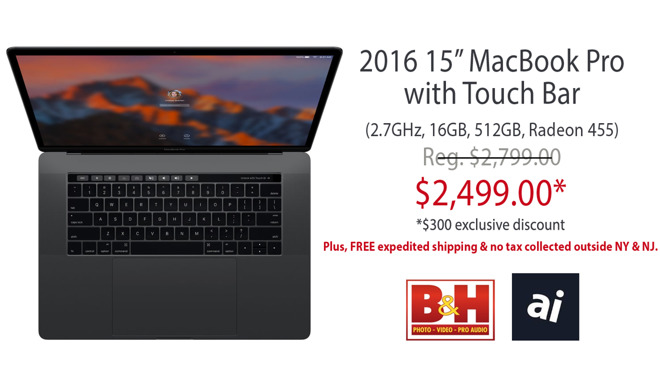 DEAL EXPIRED: Ends today at 11:59 p.m. Eastern! B&H is taking $300 off Apple's Late 2016 15-inch MacBook Pro (2.7GHz, 16GB, 512GB, Radeon 455) in Space Gray (model MLH42LL/A). Priced at $2,499.00 at B&H, this exclusive offer represents the lowest price available from an Apple authorized reseller. What's more, B&H is also throwing in free expedited shipping in the contiguous U.S. On top of the instant savings, B&H will not collect sales tax on orders shipped outside NY and NJ, making this deal $525 cheaper for many shoppers compared to paying full price with tax at the Apple Store. According to our 15-inch MacBook Pro with Touch Bar Price Guide, this exclusive price is also $175 to $240 cheaper than purchasing from another Apple authorized reseller.
To activate the special offer, please see the instructions below.
15" (2.7GHz, 16GB, 512GB, Radeon 455) in Gray for $2,499.00 ($300 off + no tax outside NY & NJ)
B&H will not collect sales tax on orders shipped outside NY and NJ. To activate the discount, click through the pricing link above using the desktop or mobile site. Offer cannot be redeemed via the AppleInsider and B&H apps at this time.
Add AppleCare
You can easily tack on an AppleCare extended protection plan to this 15" MacBook Pro at a discounted rate of $299 by selecting the AppleCare option immediately after you press the "Add to Cart" button on B&H's website. Or just use this link.
How to redeem the discount:
To activate the exclusive price, simply click through one of the pricing links in this article and look for this image: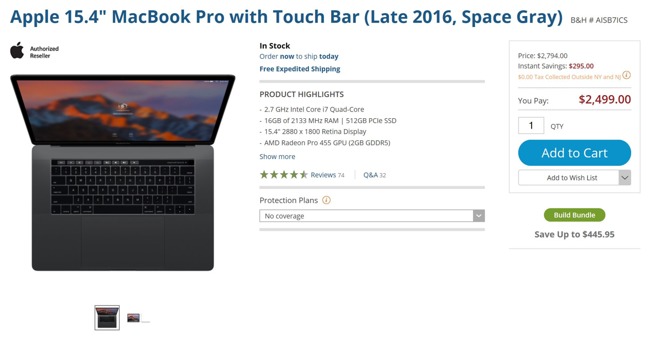 If you do not see the advertised price after clicking on the pricing links above, try loading this article in a private browsing window on your Mac or iPhone and try the links again (at this time, the offer cannot be activated through the AppleInsider and B&H apps). If you still do not see the correct price and you think all hope is lost, it isn't; just drop us a line at [email protected] and we'll do our best to help you out.