Apple's Late 2013 21-inch iMac for $899 (2.7GHz, 8GB, 1TB HDD) with free shipping and no tax outside NY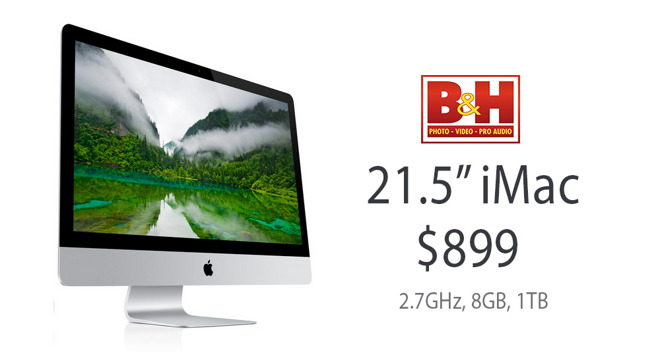 DEAL EXPIRED: Now through July 16, AppleInsider readers can exclusively save $400 on Apple's Late 2013 21" iMac (2.7GHz/8GB/1TB HDD), bringing the price to $899.00 with free expedited shipping. What's more, B&H will not collect sales tax on orders shipped outside NY and NJ. According to our Mac Price Guide, this exclusive offer is $300 cheaper than buying from another authorized reseller.
21" Late 2013 iMac (2.7GHz, 8GB, 1TB) for $899.00 ($400 off)
Please Note: If you do not see the advertised price after clicking on the link above, try loading this article in a private browsing window on your Mac or iPhone and try the links again. If you still do not see the correct price and you think all hope is lost, it isn't; just drop us a line at [email protected] and we'll do our best to help you out.
You can easily add an AppleCare extended protection plan to this 21.5" iMac for the discounted rate of $159 by selecting the AppleCare option immediately after you press the "Add to Cart" button on B&H's website. Or just use this link.