Apple's 13" MacBook Pro (3.1GHz, 8GB, 256GB) with Free LG super drive & Brenthaven case for $1,739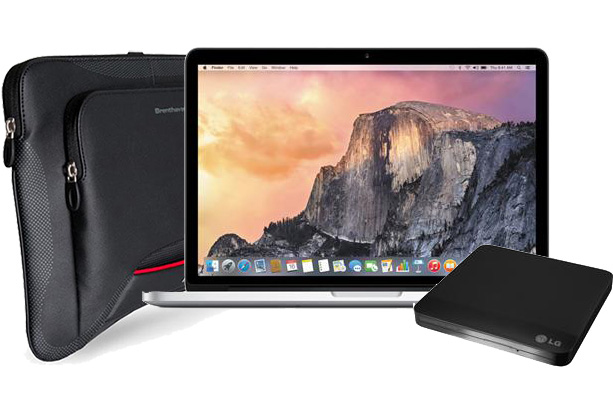 Till Sept 10th Only: Apple authorized reseller Adorama and AI are offering Apple's early-2015 13" MacBook Pro (3.1GHz, 8GB, 256GB) model Z0QN-MF8404 for $1,739.00 with free expedited shipping and no sales tax collected outside NY & NJ when using Promo Code APINSIDER. That's $60 off and the lowest price anywhere by the same amount for this popular but rarely discounted configuration, according to our Mac Price Guide. What's more, you'll also get your a free LG super drive and a free Brenthaven BX2 Sleeve Plus for 13" MacBooks with your order (or your choice of alternative free and discounted accessories). Just follow the instructions below:
Step by Step Instructions for this Deal
1)Make sure you're using a browser with cookies enabled that isn't in private mode.
2) If you haven't already, take a few moments to join Adorama's free VIP customer program. (It's painless, offers perks, & is required for special promos like these.)
3) Â Now make sure you're logged into your Adorama VIP account.
4) Â Once logged in, select this early-2015 13" MacBook Pro configuration by clicking this link (or the one in the Mac Price Guide) -- you must our these links!
5) When the Adorama MacBook Pro page loads, you'll see a price that's roughly $50 higher than advertised.
6) Right below the price of the MacBook Pro is a section in light blue that says "Ways To Save up to $140.00." Click the link that says "Save up to $140.00 with bundle."
7) Now scroll down to the last section of the page. There's a series of Blue and Grey rectangle tabs on the left hand of the page. Click the grey tab that says "Get 1 FREE or discounted accessory!" It should then turn blue.
8) Now add any of the Free or discounted accessories to your order by using the blue "ADD TO BUNDLE" buttons.
9) When finished, click the green "ADD BUNDLE TO CART" button on right side of the of the screen and then begin the checkout process.
10) During checkout, apply promo code APINSIDER in the Promo Code field right after your shipping info (where it says "Do you have a gift card or promo code?")
11) After you apply the promo code, the total price should fall by roughly $50 to match the price listed in our Price Guides.
12) You can now check out and complete your order, or continue shopping.
13) That's it. And if you live outside NY & NJ, this will be your final charge price for this order, as Adorama will not collect sales tax on your order.
As always, if you have any issues, you can reach out to us at [email protected] and we'll try and help.