Apple's 11" MacBook Air (1.70GHz/8GB/512GB) for $1,089 with Free AppleCare & accessories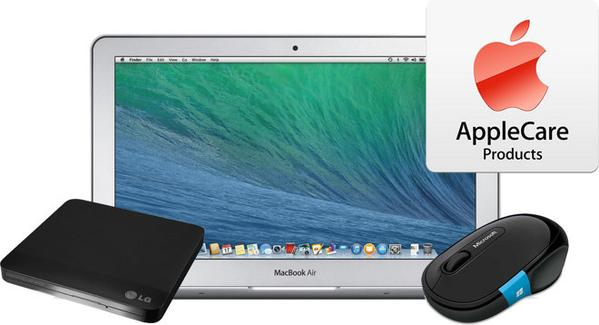 This limited time deal from AI and Apple Authorized Reseller Adorama offers Apple's mid-2014 11" MacBook Air (1.70GHz/8GB/512GB) model MF067LL/A with AppleCare for $1,089.00 with free shipping and no sales tax collected outside NY & NJ. That's $809 off the original MSRP for the MacBook with AppleCare, $359 off their current MSRP, and the lowest price we've ever seen for this bundle. To take advantage of this offer, follow the detailed steps below or use the links in this article (or our Price Guides) and apply promo code APINSIDER during checkout and then complete this $50 Rebate (issued in the form of a Amex pre-paid card) after your order ships.
Plus 2 Free or Deeply Discounted Accessories
What's more, you'll also get to select two free accessories like a Microsoft Sculpt Bluetooth Comfort Mouse, LG Super Drive, and USB hub (or you can chose from heavily discounted accessories like a $39 WD My Passport Ultra 1TB Portable HDD). The price of the MacBook Air and its free & discounted items are subject to change at any time. Always check our Price Guides for the latest prices. You must first register & login to an Adorama VIP account before taking advantage of this offer. Full details and step-by-step instructions for securing these deals can be seen below.
This MacBook Air was introduced just over a year ago at the suggested retail price of $1,649.00. It's nearly identical to the 2015 model introduced a few months ago with an upgraded 2.2GHz processor and the same $1,649 sticker price.
Step by Step Instructions for these Deals
1)Make sure you're using a browser with cookies enabled that isn't in private mode.
2) If you haven't already, take a few moments to register and login to Adorama's free VIP customer program. (It's painless, offers perks, & is required for special promos like these.)
3) Once logged in, use this link to access the MacBook Air + AppleCare bundle on Adorama's website.
4) The price will show $1,173.99.
5) Look below the price for a section that says "Select up-to 2 FREE Accessories!" Click the button that says "GET IT NOW"
6) Now add your choice of two accessories to the bundle with the blue "ADD TO BUNDLE" buttons.
7) After you have successfully added your accessories to the bundle, click the green "ADD BUNDLE TO CART" button.
8) When you're done shopping, simply begin the checkout process.
9) During checkout, apply promo code for APINSIDER in the Promo Code field right after your shipping info (where it says "Do you have a gift card or promo code?")
10) This should drop the price down to $1,139.00
11) If you live outside NY & NJ, your final initial cost should be $1,139.00 before the rebate.
12) Once your order is submitted, you must wait for it to ship. When it ships, you'll receive an email with an Invoice Number (it will also be on a printed invoice in the box)
13) Use that Invoice Number to complete this $50 AppleCare Rebate to drop your cost down another $50 to the advertised $1,089.00 price.
14) That's it. As always, if you have any issues, you can reach out to us at [email protected] and we'll try and help.
Please Note: the prices advertised in this deal are valid as of July 27th at press time, but are subject to change at any time, as are the free items included with the deal. For the latest prices, always make sure to double check our Price Guides.
The $50 Rebate is issued as a pre-paid $50 American Express car that can be used to make purchases anywhere a credit card can be used. It cannot be used at an ATM to redeem cash. The average lead time from when you submit your rebate application to when you'll receive your card is approximately 6 weeks. The card comes with a $50 value and you should attempt to use it in full before the end of the 4th month. After that, a maintenance fee of $2/month will automatically begin to reduce the value of your card. Best advice: use it as soon as you receive it on groceries, staples and other routine/common purchases.