12 Hours Left: Free AppleCare with Apple's 13" MacBook Pro (2.7GHz, 8GB, 128GB) model MF839LL/A ($1,299.99)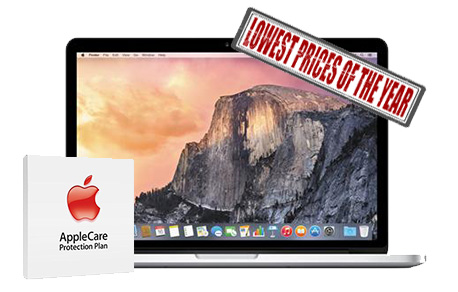 EXPIRED: Apple Authorized Reseller Adorama and AppleInsider have teamed up to give away 3 years of AppleCare extended protection with each of Apple's 3 standard early-2015 13" MacBook Pros when using the links below and promo code APINSIDER. In total, readers can save between $248 and $278 off Apple's price when using the instructions below, with the added benefits of free shipping and no sales tax on orders that ship outside NY & NJ. This deal is valid for the next 12 Hours or when the supply of each configuration runs out, whichever comes first. Expires July 31st.
Step by Step Instructions for this Deal
1)Make sure you're using a browser with cookies enabled that isn't in private mode.
2) If you haven't already, take a few moments to join Adorama's free VIP customer program. (It's painless, offers perks, & is required for special promos like these.)
3) Â Now make sure you're logged into your Adorama VIP account.
4) Â Once logged in, use the links above (or in our Mac Price Guide) to access the Adorama page and add the MacBook Pro to your cart -- you must use these links!
5) During checkout, apply promo code APINSIDER in the Promo Code field right after your shipping info (click the link that says "Do you have a gift card or promo code?")
6) After you apply the promo code, the total price should fall by $60-$100 and the cost of the AppleCare should disappear to yield the advertised price.
7) That's it. If you live outside NY & NJ, this will be your final charge price, as Adorama will not collect sales tax on your order.
As always, if you have any issues, you can reach out to us at [email protected] and we'll try and help.